Apollo Information Systems Onboards Justin Current as Senior Director of Cybersecurity Professional Services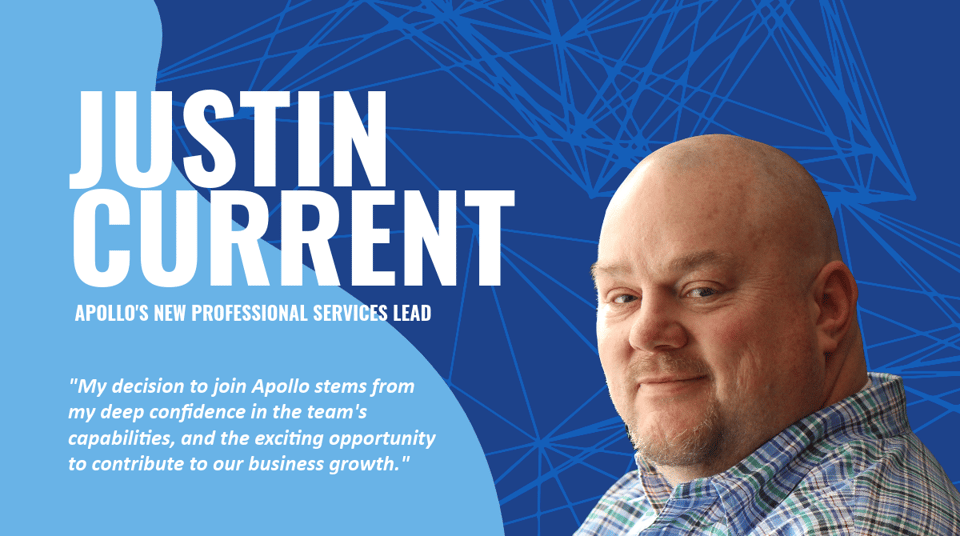 Cybersecurity Industry Leader

Joins Apollo

to

Drive Business Growth for Cybersecurity Services
Round Rock, Texas, October 26, 2023 -- Apollo Information Systems Corp., a leader in cybersecurity and IT solutions for high-stakes organizations, is pleased to announce the appointment of Justin Current as the new Senior Director of Professional Services.
In his new role, Mr. Current will oversee the Professional Services team to strengthen and extend Apollo's market reach while delivering top-tier expertise to clients. With a career that spans top technology leadership roles, Mr. Current brings a wealth of experience in driving business growth, aligning technology strategy, and delivering innovative solutions.
Justin Current is known for his strong ability to provide effective solutions to complex challenges and deliver lasting impact on business growth. "My decision to join Apollo stems from my deep confidence in the team's capabilities, and the exciting opportunity to contribute to our business growth," said Mr. Current. "I am also motivated by the increasing demand for robust cybersecurity services in today's digital landscape."
He has been instrumental in advancing professional services design and delivery, fostering operational efficiency, and enhancing user experiences across a variety of sectors. Mr. Current's collaborative and highly inspirational executive leadership is a significant addition to Apollo's already high-caliber team.
"Apollo is delighted to welcome Justin to our team," said Mike Guglielmo, CEO of Apollo Information Systems. "His passion for transforming enterprises through technology aligns seamlessly with our vision. His deep expertise will be pivotal in propelling Apollo's mission to proactively defend and protect what matters most to our clients."
About Apollo
Apollo Information Systems, Corp., operating in the USA and Canada, is a security leader for high-stakes organizations and businesses. With more than twenty years in cybersecurity and IT, Apollo has created a legacy of creating urgent and active resilience using the best tools, approaches, and solutions available across multiple industry verticals and government branches.
Apollo's dynamic defense approach to cybersecurity changes the rules of engagement on traditional detect-and-respond practices, so organizations can be confident against a hostile environment of threats and uncertainty. Our approach simply aligns the protection of what matters the most to the organization to the most efficient allocation of protection per dollar. Apollo is led by some of the most respected professionals in the security industry who are steeped in real-world operational experience across multiple industry verticals and government branches.
Apollo's enormous suite of solutions and services offers complete cybersecurity defense from early warning and threat intelligence to professional advisory services and incident response.
For more information, visit http://www.apollo-is.com.