Apollo Strengthens Global Presence with Strategic Expansion into Canada; Appoints Industry Veteran Tim McCreight as VP of Business Development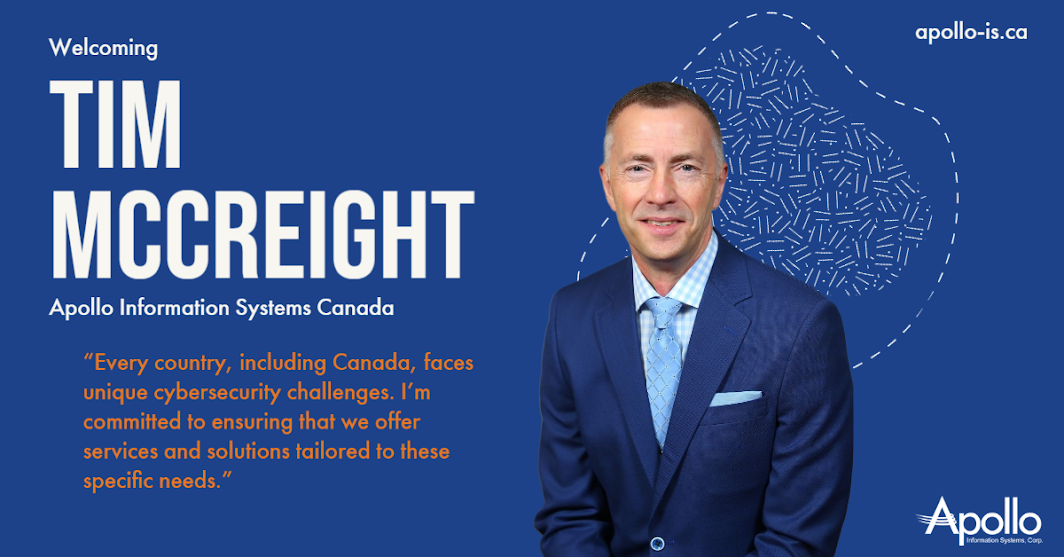 McCreight's Appointment Amplifies Apollo's Commitment to Addressing Cybersecurity Challenges Unique to Canada, Underscoring Its Focus on Enhancing Global Security Infrastructure
Vancouver, British Columbia, June 27, 2023-- Apollo Information Systems, a global provider of cybersecurity services and solutions announced the appointment of Tim McCreight as the new Vice President of Business Development for Canada. This appointment marks a significant step in Apollo's strategic expansion in Canada, drawing on national cybersecurity expertise to better serve the country's enterprise and government sectors.
"We're thrilled to welcome Tim to our leadership team," said Apollo president Dave Tyson. "His deep industry knowledge, proven leadership, and extensive Canadian experience will be instrumental in helping us grow and navigate the unique challenges of the Canadian marketplace. We recognize that our work in cybersecurity has often required strong connections in Canada and although Apollo already has embedded professionals there, we believe Tim's appointment will further strengthen those relationships and contribute to the global security ecosystem."
McCreight is an industry veteran, bringing over 40 years of experience in the security industry. Recognized as one of North America's leading Enterprise Security Risk Management (ESRM) evangelists, he has served as a keynote speaker at conferences across the continent and is a regular columnist for Canadian Security Magazine. Tim is the President of ASIS for 2023 and is the global sponsor for Enterprise Security Risk Management and Digital Transformation at ASIS.
Previously, he was the National Director, Market Development and Strategic Advisory for CGI and has held executive positions at several organizations, notably as the Managing Director of Enterprise Security for Canadian Pacific Railway, the Chief Security Officer (CSO) for The City of Calgary, the Chief Information Security Officer (CISO) for the Government of Alberta, and Director of Enterprise Information Security for Suncor Energy Services Inc.
"I am honored to join the cybersecurity leaders at Apollo and look forward to further developing its presence in the Canadian market," said McCreight. "Every country, including Canada, faces unique cybersecurity challenges. I'm committed to ensuring that we offer solutions tailored to these specific needs, leveraging my understanding of the landscape to build a strong, resilient digital environment for our clients."
The expansion to Canada aligns with Apollo's commitment to global cybersecurity and its strategy to leverage local expertise worldwide. With this move, the company strengthens its capacity to handle international security threats and continues to ensure the safety of its clients.
About Apollo
Apollo Information Systems, Corp., operating in the USA and Canada, is a security leader for high-stakes organizations and businesses. With more than twenty years in cybersecurity and IT, Apollo has created a legacy of creating urgent and active resilience using the best tools, approaches, and solutions available across multiple industry verticals and government branches
Apollo's dynamic defense approach to cybersecurity changes the rules of engagement on traditional detect-and-respond practices, so organizations can be confident against a hostile environment of threats and uncertainty. Our approach simply aligns the protection of what matters the most to the organization to the most efficient allocation of protection per dollar. Apollo is led by some of the most respected professionals in the security industry who are steeped in real-world operational experience across multiple industry verticals and government branches.
Apollo's enormous suite of solutions and services offers complete cybersecurity defense from early warning and threat intelligence to professional advisory services and incident response.
For more information, visit http://www.apollo-is.ca.